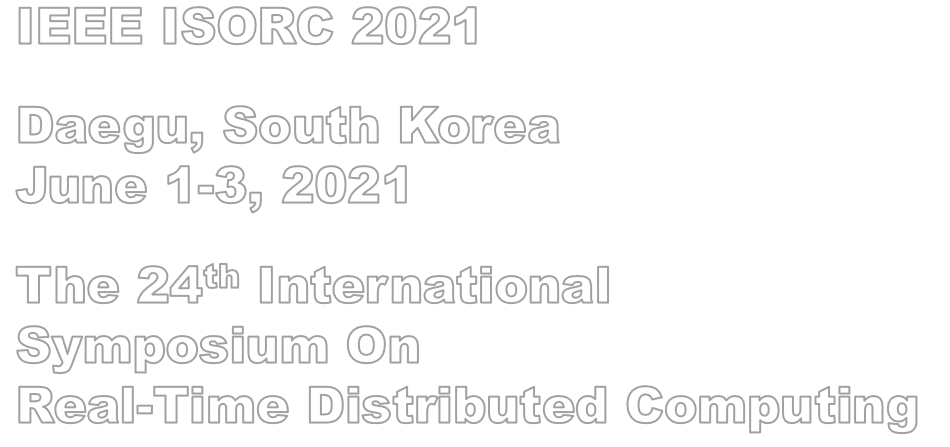 WELCOME TO THE IEEE ISORC 2021
NEWS



If you have not received invitation email from Slack, please use this [LINK].
Conference proceedings can be seen in Program.
For offline discussions and Q/A about the papers, please go to the respective Slack channels in Program.
Real-time Zoom Link is HERE.
(2021.05.27) Registration Website is Open! [LINK]
(2021.05.18) Information on the virtual conference format is shown in HERE .
(2021.05.07) Accepted Paper List is shown in Program.
(2021.05.02) Registration page will be opened soon.
(2021.04.14) COVID-19 Update: IEEE ISORC 2021 to Go Fully Virtual.
Poster/Demo deadlines are extended to April 12, 2021 (anywhere on earth).
Submission deadline is extended to February 5, 2021 (anywhere on earth).
Submission deadline is extended to January 25, 2021 (anywhere on earth).
COVID-19 Update: As you may be aware, the World Health Organization officially declared the novel coronavirus COVID-19 a pandemic. Following the advice and guidelines from healthcare officials and local authorities, the IEEE ISORC 2021 will now be held partially virtual or fully virtual. Therefore, authors from institutions outside Korea may present their paper using online video and no need to physically participate in the conference held in Daegu, Korea.
SUBMISSION IS OPENED! (2020.12.17) Papers can be submitted through the EasyChair system.
All submitted papers will be judged based on their quality and relevance through double-blind reviewing. Please see GUIDELINES FOR MANUSCRIPT for more details.
IEEE ISORC was founded in 1998 (with its first meeting in Kyoto, Japan) to address research into the application of real-time object-oriented distributed technology. Since then, ISORC has continually evolved to meet the latest challenges faced by researchers and practitioners in the real-time domain, with an emphasis on object-, component- and service-oriented systems and solutions.
ISORC is a single-track conference, with a lively community. We have hosted a number of associated workshops, and are proud of our spirit of openness. We seek to encourage diverse views and new approaches to all Real-Time Issues and Challenges for novel applications and systems in RT computing issues.
For our 24th symposium, we are meeting in South Korea, in the city of Daegu. virtual.
Important Dates


Main Track:
Submission deadline: February 5, January 25, January 15 2021 (anywhere on earth)
Rebuttal period: March 29-31, March 15-17 2021
Acceptance notification: April 9, March 29 2021
Camera-ready papers: April, 23, April 16 2021
Conference: June 1 - 3, 2021

Poster/Demo Session:
Submission deadline: April 12, April 5 2021
Acceptance notification: April 19, April 12 2021
Camera-ready papers: April 23, April 16 2021
Conference: June 1 - 3, 2021

Registration:
Author registration deadline: TBD

Keynote Speakers
Speaker: Insik Shin, Professor, School of Computing, KAIST, Korea
Title: Towards New Multi-device Computing: Flexible UI Distribution for Transparent One-app Multi-device Execution
Abstract
Recent years have seen rapid development of mobile computing and IoT technologies, which transforms day-to-day objects into smart devices from smartphones to smart home to smart cars. Such technology development creates interesting opportunities and challenges in the way users interact with smart devices. In particular, a growing trend of multi-device ownership and usage creates the need and opportunity to use applications across multiple devices for better user experience. However, in general, the current app development and usage still remain within the single-device paradigm, falling far short of user expectation. This talk will cover and demonstrate some research efforts towards multi-device mobile platforms that allow existing single-device apps to run across multiple devices by splitting and distributing user interfaces across different devices for their concurrent execution, without any app code modification required. This way, it allows to preserve the same ap development complexity as in the single-device paradigm.
Bio
Insik Shin is a professor in the School of Computing at KAIST, Korea. He holds a Ph.D. degree in computer science from University of Pennsylvania. His primary research interests include real-time embedded systems, mobile computing, and systems security. He has served on program committees of top international conferences, including RTSS, RTAS and ECRTS. He has won several awards for his research work in international conferences and industries, including the best (student) paper awards of MobiCom 2019, RTSS 2003 & 2012, and RTAS 2011.
Acknowledgment
We acknowledge support from the following.