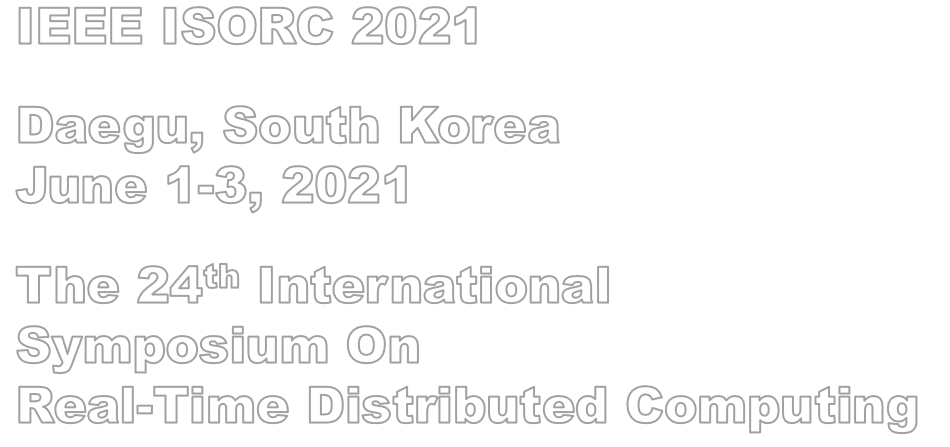 CALL FOR PAPERS
ISORC has become established as the leading event devoted to state-of-the-art research in the field of object/component/service-oriented real-time distributed computing (ORC) technology. Celebrating the 24th anniversary since its foundation in 1998, ISORC continues the trend of providing an international forum for researchers and industry experts to exchange and share their experiences, ideas, latest research results on all aspects of ORC technology. Following the previous year's experience, ISORC will continue to employ the double-blind review process and a rebuttal phase this year.
Important Dates
Main Track:
Submission deadline: February 5, January 25January 15 2021 (anywhere on earth)
Rebuttal period: March 29-31, March 15-17 2021
Acceptance notification: April 9, March 29 2021
Camera-ready papers: April 23, April 16 2021
Conference: June 1-3, 2021
Topics
IEEE ISORC 2021 invites high-quality papers on all aspects of ORC technology, including, but not limited to:
Real-Time Distributed Computing
Cloud/Edge/Fog Computing
Internet of Things (IoT)
Real-Time Scheduling Theory
Real-Time Networks
Resilient Cyber-Physical Systems
Self-Aware Computing Systems
Energy-Efficient Systems
Autonomous Systems (e.g., Autonomous Driving)
Machine Learning for Embedded and Cyber-Physical Systems
Real-Time Deep Learning Inference
Optimization of Time-Sensitive Applications
Operating Systems and Middleware for ORC technology
Security and Privacy for ORC technology
Applications based on ORC technology, for example, medical devices, intelligent transportation systems, industrial automation systems and industry 4.0, smart grids, multimedia processing, and web/mobile applications
Guidelines for Manuscript
IEEE ISORC 2021 invites papers in three categories. Submission guidelines for each category of paper are as follows:
1. Regular Research Papers: Papers should describe original work and papers submitted for review should be a maximum of 8 pages in length, excluding references, using the IEEE conference paper format. A maximum of two extra pages may be purchased during the camera-ready submission of accepted papers.
2. Industrial Papers and Practitioner Reports: Papers describing experiences of using ORC technology in application or tool development projects, are an integral part of the technical program of ISORC. These papers should be no longer than 8 pages, excluding references, using the IEEE conference paper format and may be less formal than research papers. They should clearly identify and discuss in detail the issues that represent notable industrial advances. Reports with project metrics supporting their claims are particularly sought, as well as those that show both benefits and drawbacks of the approaches used in the given project.
3. Short Papers: Short research papers that are no longer than 4 pages, excluding references, using the IEEE conference paper format, on real-time analytics are also invited, and should contain enough information for the program committee to understand the scope of the project and evaluate the novelty of the problem or approach.
4 Double Blind Submissions: All submitted papers will be judged based on their quality and relevance through double-blind reviewing, where the identities of the authors are withheld from the reviewers. As an author, you are required to preserve the anonymity of your submission, while at the same time allowing the reader to fully grasp the context of related past work, including your own. Common sense and careful writing will go a long way towards preserving anonymity. Papers that do not conform to our double-blind submission policies will be rejected without review.
The IEEE conference paper templates can be found here
Papers are to be submitted through the
EasyChair
system.
Acceptance Criteria
The review process is double-blinded. Authors' identifiers, including name, affiliation and contact details, must not be revealed in the submission. The title page may list the authors as "anonymous" and any reference to the prior works of the authors must be in the third person, i.e., references to your own prior work still include full author names. Similarly, if you use your own software, state that a copy of this software was obtained from the authors of the software, preferably with a reference. Omit acknowledgements and funding sources in the submission. The camera-ready submission for an accepted paper can restore these details. (Any further questions about double-blind submissions should be directed to the PC chairs.)