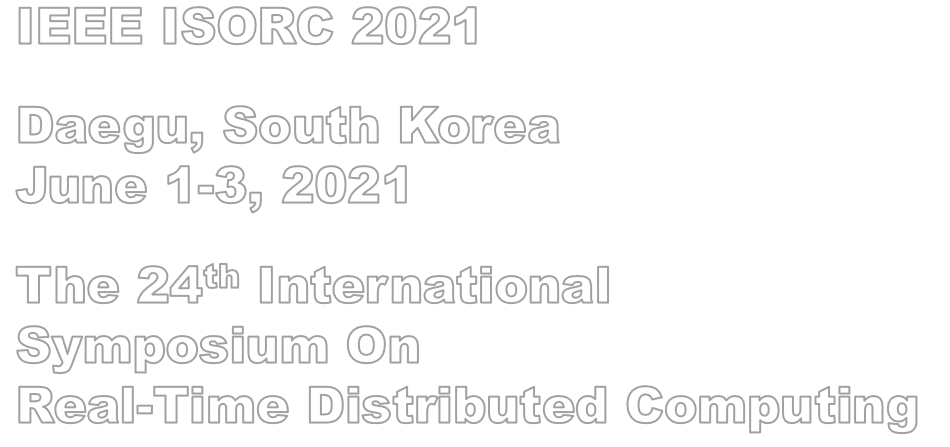 WELCOME TO THE IEEE ISORC 2021
IEEE ISORC was founded in 1998 (with its first meeting in Kyoto, Japan) to address research into the application of real-time object-oriented distributed technology. Since then, ISORC has continually evolved to meet the latest challenges faced by researchers and practitioners in the real-time domain, with an emphasis on object-, component- and service-oriented systems and solutions.
ISORC is a single-track conference, with a lively community. We have hosted a number of associated workshops, and are proud of our spirit of openness. We seek to encourage diverse views and new approaches to all Real-Time Issues and Challenges for novel applications and systems in RT computing issues.
For our 24th symposium, we are meeting in South Korea, in the city of Daegu.
Important Dates


Main Track:
Submission deadline: January 15, 2021
Rebuttal period: March 15-17, 2021
Acceptance notification: March 29, 2021
Camera-ready papers: April 16, 2021
Conference: June 1 - 3, 2021

Poster/Demo Session:
Submission deadline: April 5, 2021
Acceptance notification: April 12, 2021
Camera-ready papers: April 16, 2021
Conference: June 1 - 3, 2021

Registration:
Author registration deadline: TBD

Keynote Speakers
Acknowledgment
We acknowledge support from the following.